KIT MCKAY
Artistic Director
Kit McKay is a stage director, curator, and producer who has spent the last twelve years bringing professional artists from across the country and around the world to northern Michigan as the co-founder of Parallel 45 Theatre. At P45, she directed The Sound of Music, HAIR, Christmas Carol in Prose, A Streetcar Named Desire, Hedwig and the Angry Inch, Too Much Light Makes the Baby Go Blind (30 Plays in 60 Minutes), Shakespeare's R&J, Metamorphoses, and Our Town. Kit attended Interlochen Arts Academy, Sarah Lawrence College, and Northwestern University's Master of Fine Arts directing program. Upon her master's graduation, she studied at the Yale School of Drama masters program in theatre management and worked as a Yale Fellow at Seattle Repertory Theatre. She spent 7 years as a curator and producer for LUMBERYARD Contemporary Performing Arts.Her two stage productions at the Rose Theatre of Omaha have been nominated for 7 OEA awards (winning one), 4 TAG awards (winning one) including Best Direction for Tarzan. She directed the Intermediate Repertory and/or Musical Productions at Interlochen Arts Camp for ten summers.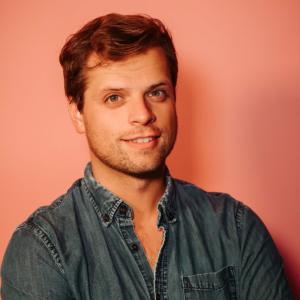 NICK VIOX
Producing Director
Nick is a Northern Michigan native with a business degree and a passion for the arts. He worked eight years at the Downtown Development Authority where he nurtured his love for bringing community together. Through event planning, Nick has coordinated major community events throughout his career including the Downtown Light Parade, the Sara Hardy Downtown Farmers Market, Up North Pride, and more. He has performed and directed with Parallel 45 and has been with the company as Producing Director since the summer 2021. He loves to use his passion for connecting arts within the community by volunteering with a number of organizations as board member, performer, and coordinator. These organizations include Mashup Rock and Roll Musical, Up North Pride, Commongrounds Cooperative, Crooked Tree Arts Center, Old Town Playhouse, and more.
DEBBIE HERSHEY
Development Director
When Debbie was six years old, she sat on Willard Scott's lap, (he was dressed as Ronald McDonald—his first professional gig!), as he announced she had raised the most money for Muscular Dystrophy through a local neighborhood carnival and talent show she and her family created. Debbie continued supporting the annual Jerry Lewis Labor Day Telethon through her childhood, even winning a college three-day dance marathon to continue to raise money for childhood muscular diseases. From these early experiences, Debbie learned that through compelling story telling and linking communities to the good works of non-profits, people were very generous and loved to help. Debbie went on to complete two college majors in Speech Communication and Theatre and also obtained a Juris Doctorate. She soon discovered that her two passions: the theatre lover, performer side and the logical lawyer, governance side were the perfect combination for development work! Since then, Debbie has raised funds for many local charities, Rotary groups, high school band parents, private schools, PTA's, Odyssey of the Mind, and many millions for new school construction both overseas and domestically. For the past 13 years, Debbie has focused her work on various arts groups in Traverse City including City Opera House, Old Town Playhouse, and the Traverse City Film Festival. She has served on the Traverse City DDA, including a three-year stint on the Traverse City Arts Commission, the Old Town Playhouse Artistic Committee and Board of Trustees, and now sits on the Child and Family Services Board and the Traverse City Planning Commission. Debbie is thrilled to be working on behalf of Parallel 45, a theatre company that fully believes in and models truthful, artistic, imaginative storytelling. For centuries, storytellers have shaped our world, raised social consciousness, and moved humanity. We all must continue to support their work!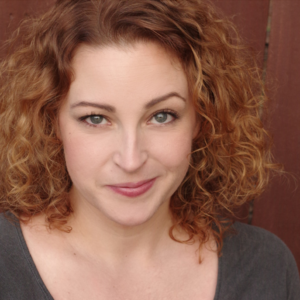 STACIA SEXTON
Director of Education
Stacia relocated to Traverse City from the Southeast where she worked as an actor, teaching artist, and educator. She holds a Bachelor of Arts in Theatre from Brenau University and is trained in both Classical and Musical Theatre Performance, Theatre for Young Audiences, and Theatre Education. She spent several years sharing her love for theatre with underserved communities through her instruction with the Boys and Girls Club of America and has served as a Teaching Artist at many regional theatre companies throughout the Southeastern US. Ms. Sexton most recently held the position of Resident Teaching Artist at Birmingham Children's Theatre, where she toured and performed Theatre for Young Audiences programming. Since making Northern Michigan her permanent home, Stacia has worked with many schools and theatre companies including The Children's House Montessori, St. Francis High School, Drama Kids of Northern Michigan, and the Old Town Playhouse. Ms. Sexton could not be more ecstatic to be joining Parallel 45 as Director of Education and is honored to be part of the ongoing quest to bring adventurous and engaging theatre fare to the community.
SUSAN FISHER
Marketing Support
Susan comes to Parallel 45 after over a decade in events and entertainment. Having spent over 13 years with the Traverse City Film Festival, State Theatre, and Bijou by the Bay, most recently as Director, her experience with producing large scale events has been honed in Downtown Traverse City. She served as President of the Downtown Traverse City Association where she helped provide support and plan events for our incredible downtown businesses. Her passion for volunteerism has brought her into orgs such as Up North Pride, United Way, Mashup Rock & Roll Musical, Old Town Playhouse, Planned Parenthood and many more. An avid arts lover, and believer in the magic of community, she is ecstatic to be part of P45.
BRIAN BECKWITH
Finance Manager
Brian earned an accounting degree from Ferris State University and a law degree from Western Michigan University's Cooley Law School. A CPA and attorney who has worked in public accounting (both tax & audit), the legal field, in-house as a Chief Financial Officer, he now runs a consulting firm assisting for- and non-profit businesses with accounting, tax, finance, and legal issues. Brian is a Traverse City native who has lived in northern Michigan his entire life. He and his wife Bridgett have 2 children, 3 dogs, and 1 cat, and can often be found outside, hiking, kayaking or camping.